The Incomparable Tarte Tatin
This site is for to those who would like to create one of the world's greatest apple pie desserts. It came about due to the fumblings of the Tatin sisters in Lamotte-Beuveron, about 50 miles south of Paris, over 100 years ago. This site provides a variety of recipes as well as a recipe in French for the benefit of our Gallic friends. (Aussi une recette en Français.)

Tarte Tatin - Bernard Holmes' Version
This is a truly wonderful sweet that is very rarely made well in restaurants, is difficult to get right but gets you millions of brownie points in France if you succeed. However if you follow this recipe with care it will be both fantastic and easy.
For eight people. Prep time 30 min. Cooking time 60 min.
Special equipment:1 Tarte Tatin mould or round cake tin 24cm (91/2in) diameter and 5cm (2in)
Pastry: 150g best quality puff.
Filling: Approx 12 Granny Smith Apples
60g Unsalted Butter cut into thin slices.
2 large pinches of Cinnamon and more to taste.
135g Castor Sugar.
Caramel: 75g Castor Sugar. 30g Unsalted Butter

Rolling out the pastry
Roll the puff pastry out on a lightly floured surface to just larger than the diameter of the tin. Place on a tray lightly dusted with flour and refrigerate for 30 minutes.
Cut out a circle slightly larger than the tin and refrigerate until required.
Preheat the oven to 375'F (190'C) Gas 5.

Preparing the apples
Peel all the apples. Cut eight of them in half vertically, and scoop out the cores. It is very important to heavily scoop out the apples so that they will interlock with each other Cut the remaining four apples into quarters and remove the cores. Keep, covered.
Cooking the caramel
Put the castor sugar in the tarte tatin mould and place over a medium heat until the sugar turns a dark caramel colour. Turn off the heat and stir in the butter. Cool down for a few minutes. It's very important to drain off any excess butter.
Building the tart
Place 16 halves of apple upright around the tin/mould, back to back rounded side to scooped-out side.. Press theapple halves tightly together so that there are no gaps even if this means you have to add a half or two. (The apple halves will rise above the rim of the mould, by approximately 3cm/11/4in.) arrange the quarters and any other apples pieces in the middle to ensure a tight fit They should fit tightly enough to spring up a little after you have pushed them all down Evenly place the butter slices on top. Mix the cinnamon with the castor sugar and sprinkle over the whole.
Cooking the tart
Bake the tart in the preheated oven until a sharp knife falls into the apples under it's own weight. Surprisingly this can take anything from 25 to 40 minutes. When checking take the opportunity to baste the top of the apples with the liquid in the tin with a pastry brush. Remove it from the oven and lightly place the puff pastry circle on top of the apples and scribe around the tin with a knife and just tuck the edges in. Cook for a further 30 minutes.
Remove the tart from the oven and allow to cool down for 1 hour. Serving
Turn the tart out on to a flat serving dish, pastry side down, and serve it with lots of fresh double cream or, even better, clotted cream. Do not be tempted to turn it out early if you want it to look as mega as it will taste. This keeps well and I think tastes better after a day or two...however once started......
What can go wrong. And it has !!
It is important to use Granny Smith apples as they are very firm, have a high degree of acidity and a delicious taste; and they will hold together. You don't actually succeed in making good caramel. It's all in the smell!! You press the pastry down onto the apples. And finally you don't pack tightly enough.
---
Tarte Tatin - Bob Green's Version
This recipe was found in the Weekend Telegraph of December 2, 1989 and I am indebted to the contributor whose identity is lost. This method is more labour intensive as it call for the apples to be sliced but the result is neater and rather like the other French classic - Tarte au Pomme.

Ingredients
110g/4oz butter cut into small pieces
175g/6.5oz plain flour
2 tbsp castor sugar
1 egg
2-3 tbsp water or milk
60g/2oz unsalted butter
A squeeze of lemon
5 heaped tbsp sugar
8 large Cox's Orange Pippin apples

For the pastry
Work the butter very well into the flour and sugar then add the egg and enough water or milk to bind the soft dough. Wrap in cling film and chill for 30 minutes.

For the filling
Melt the butter in a 25cm (10 inch) round metal mould over a low flame. Add the lemon juice and sugar and stir until it turns brown. Peel, core and slice the apples. Arrange a layer of concentric circles over the caramelised butter and sugar and fill with layers of the rest of the sliced apples.

The final stage
Roll the dough out on a floured board with a floured rolling pin and cut a circle to fit inside the tin (mould). Lift it gently and lay it over the apples, pressing down on them gently. Bake at 230 Deg C/450 Deg F/Gas Mk 8 for 30 minutes or until it is lightly browned. Remove from the oven, cut round the edges and invert it quickly onto a flat serving dish.
A few hints
Be sure to cook the caramel to a darkish brown to the point where it has a good "nose". Make the pastry a bit larger than the mould and tuck the outside down the side of the apples using your fingers.

---
A French Recipe from Ginette Matbiot's Book
This recipe comes from her great French cookery book "Je sais cuisiner" published by Albin Michel - Go out and buy it in French or English. I trust that they will not object to the inclusion on this page of related information for the common good of mankind.

Pour la pâte brisée
250g farine
125g beurre
2cl huile ou
30g saindoux
1 pincée de sel
Eau

Mettre la farine due la planche à pâtiserie. Y faire un puits et y mettre l'huile, le sel et le beurre en petit morceaux. Travailler légèrement du bout des doigts pou incorporer le beurre à la farine. Mouiller avec l'eau en tournant avec une mouvette. Pátrir la pâte avec la paume de la main. L'operation doit être très rapidement menáe; la páte est d'autanr meilleure. On peut laisser reposer la pâte une journáe, rouláe en boule et recouverte d'un bol. Éntendre la pâte au rouleau en une abaisse ayant un demi-centimètre d'épaisseur et la palcer dans une tourtière ronde ayant de 25 à 35 cm de diamètres. On peut également foncer des petits moules.

Pour la garniture
La lassier reposer le temp de preparer le pommes et de carameliser la tourtiere . Prendre une tourtiere à fond plein , y mettre 100 grames de sucre avec un peu d'eau et faire un carmel bien roux. Laisser refroidir. Le fond de la tourtier doit être nappé.
Éplucher les pommes. Enliver les coeurs. Couper en fines lamelles et disposer celled-ci sur la tourtiere caramelisee en couronne, bien serrees. Saupoudrer avec le sucre qui reste. Parsemer de petits morceaux de beurre. Étaler la pâte au rouleau sur la planche sue une épaisseur de un demi-centimetre et la palcer sur la pommes. Border sur la tour pour que les fruits soient complètement recouverts.
Cuire à four chaud, pendant 30 minutes et retourner aussitôt sur un plat: les pommes alors, sont apparentes et complètement caramelisées. - Voila et bon appetit !

---
"Tarte Tintin" contributed by Peter Davis
TARTE TINTIN (for 4; vaguely related to Tarte Tatin)

1 unwaxed lemon - zested and juiced


8 dessert apples - peeled, cored, end-flattened & halved (was 6)


35 g unsalted butter (previously 40g)


100g castor sugar (previously 80g)


330g puff pastry - rolled to 3mm to flop over frying pan


Thick-bottomed 8" frying pan with metal handle


Plate which fits frying pan - hot


Set oven to 175C.


Use zester to remove zest into saucer.


Ream the lemons for juice into largeish bowl, remove pips.


Peel and core the apples, wash with lemon juice; flatten the ends and halve.


Melt butter in a metal-handled frying pan, heavy-bottomed.


Add sugar, remove from heat.


Pack in apples neatly, facing onto the sugar, fill in the gaps.


Sprinkle lemon zest on top.


Strong heat for 6-7 minutes, until sugar starts to caramelize - brown but not burnt (it gets a little darker) - ensuring the apples get dark; smell the change. Then remove from heat.


Roll the pastry with a little flour below and above, to 3-5mm, so as to be big enough to flop over.


Flop it over the pan, trim excess, then press down gently on the apples and loosely flop into the pan.


Bake for 25-30 minutes until pastry is lightly browned.


Allow to cool for 15 minutes.

Loosen edges then turn out onto warmed plate and serve straight away


Sickly if underdone, bitter if overdone; in either case good with cream.


Drastically changed from Leith's Cookery Bible 472-3 and Jeremy Lee, and completely different from Delia. Pru Leith has 600g cooking apples, 75g butter, 75g sugar, with fancy pastry whilst Lee has 35g butter, 60g sugar (and Delia has 4 apples, 15g butter and 110g dark brown sugar!).


---
Where to buy a Tarte Tatin Pan
Readers outside France will have found it very difficult to find a suitable pan to cook this delight in. Help is at hand care of a reader based in Birmingham UK who have announced a range of products for the purpose. Alan Silverwood Ltd now make an 8 inch (20 cm) and 11 inch (28 cm) anodised aluminium pans especially for Tarte Tatin lovers.

The hard anodised Silverwood pans are perfect in my experience. They are robust enough to enable caramelising on the hob prior to baking in the oven. The rim gives a good cutting guide for the pastry, providing the extra to be tucked around the edge of the apples. The slightly sloping sides in combination with the anodised surface enable the tart to turn out complete. Other pans I have used have tended to leave some of the apples stranded in the bottom.

Link to Alan Silverwood Limited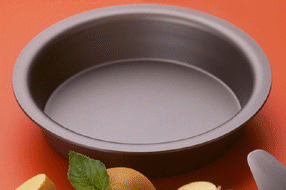 ---
Why did I create this page ?
This is the boring bit: Bernard Holmes and I met at school in the late 50's and have been friends ever since. We have kept in touch as lives have taken us to many part of the World. Cookery has long been a hobby of mine and time spent in France gave me my first taste of this great dessert which I have served at dinner parties to great acclaim. As a surprise 50th birthday treat, my then partner Angela and I were whisked off to Paris by Bernard (and his wife Sylvia, whom he met whilst on VSO in the Sudan). Somehow in conversation, the subject turned to Tarte Tatin and it transpired that we both relished this apple pie and had both perfected our own versions of it. So, after 35 years of friendship we have found an absolute common cause. Politics is not one of them !
Note:- I once saw a French Chef from the same village as the Tatin sisters (Lamotte-Beuveron) do it on TV by simply throwing sugar, butter and roughly peeled and chopped apples into a tallish copper saucepan and putting it over a high flame for 10 minutes or so. He then rolled out the pastry, laid it over the top, stuck it in the oven and then turned it out! The result was apparently authentic but seemed to lack care and aesthetics. As the original was the result of a cock-up, perhaps this is the real thing. ie - It should be scraped off the kitchen floor for the full je ne sais quoi ?


Why did I, Bernard see this page was resurrected?
Well our friendship eventually lasted 59 years until Bob's death in 2015. So our site continues in his memory.
---
Links to other Tarte Tatin recipies
Jamie Oliver
Mary Berry
Rachel Allen
Tesco
The Guardian
Good House Keeping